AVC-MIC/02 (Automatic Volume Control-Microphone)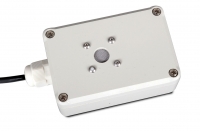 The ITEC AVC-MIC is a measurement microphone specially designed for the use with ITEC-Net Spider44, Spider04 and Spiderline16 for automatic volume control of background music and announcements by taking into account the predominant ambient noise level.
Electret condenser microphone with IP54 protective housing
Supply via phantom power (no separate power supply needed)
Balanced output
Mic level or line level (particularly immune to interference)
Easy assembly and installation
Connection to 3-pin plug-in terminal
Linear frequency response of 100 Hz - 10 kHz
Specifications
TYPE
electret condenser microphone
POWER SUPPLY
12VDC phantom power (up to 48 V possible)
CURRENT
ca. 2mA @12V
OUTPUT LEVEL (MIC)
12 µV/Pa
OUTPUT LEVEL (LINE)
+ 25 dB
CASE MATERIAL/COLOR
ABS / light gray, similar to RAL7035
PROTECTION
IP54
OPERATING TEMPERATURE
-5°C - +40°C
DIMENSIONS
98 x 64 x 38 mm (length x width x depth)
WEIGHT
ca. 140 g
CONDUIT 
PG 9 cable joint (cable OD 2.5 - 8mm)

 

All information without guarantee. Subject to technical changes.